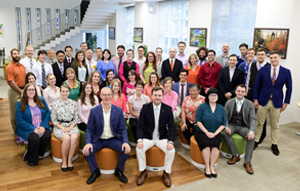 The Global Teaching Institute (GTI) is a teaching fellowship program that brings qualified teachers from the United States to teach English in the Departments of English Communication in the School of Language Communication. The purpose of GTI is to bring undergraduate students in contact with a diverse English-speaking faculty that will engage them in practical English communication skills through a variety of language learning and culture-related topics.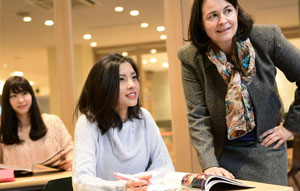 GTI classes are specifically designed to have a student-teacher ratio of 10:1 in order to create a positive learning environment that maximizes individual attention on students and bridges the communication gap between faculty and students. These are not lecture-based classes, but rather focus on language production by students. In this type of educational setting, students will have the opportunity to discuss their learning and career goals, as well as improve their understanding of North American culture.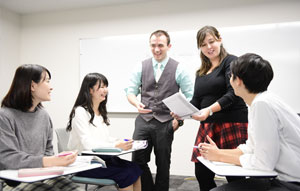 The model for the class schedule comes from North American language education practice. One course meets for 60 minutes 3 times a week. This differs from other courses which usually meet for one 90-minute class a week. The full scope of the GTI curriculum consists of two courses meeting on Monday, Wednesday, Friday for 60 minutes each. Followed by two 90-minute courses on Tuesday and Thursday. We believe that having two different styles of classes creates a better effect for language learning.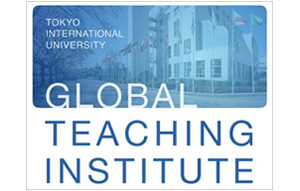 This website is for students to access the English PLAZA at any time. You can access many of the English PLAZA's resources from this site using your computer or smartphone. If you are a visitor, feel free to check us out.
Freshman Course Schedule
Spring Semester
Mon
Tue
Wed
Thu
Fri
1
9:10〜
10:40

9:10〜
10:10
10:15〜
11:15
11:20〜
12:20


English PLAZA
Communication
Basic
Introduction to
American Society

Introduction to
Linguistics

English
Comprehension


English PLAZA
Communication
Basic
Introduction to
American Society

Japanese Writing
Workshop

English
Comprehension


English PLAZA
Communication
Basic
Introduction to
American Society

2
10:50〜
12:20
3
13:10〜
14:40
Seminar I
English PLAZA
Career
Planning I
English PLAZA
Psychology A
4
14:50〜
16:20
Communicative
Grammar
Basic
Writing
Japanese
Culture
Basic
Speech
5
16:30〜
18:00
Basic ICT I
Sophomore Course Schedule
Spring Semester
Mon
Tue
Wed
Thu
Fri
1
9:10〜
10:40

9:10〜
10:10
10:15〜
11:15
11:20〜
12:20


English PLAZA
Communication
Core
English Project
Workshop


English PLAZA
Communication
Core
English Project
Workshop

Tour Guide English
Interpretation

English
Production


English PLAZA
Communication
Core
English Project
Workshop

2
10:50〜
12:20
3
13:10〜
14:40
British and American
Literature
Seminar Ⅱ
Advanced
Listening
International
Communication
Advanced
Speaking
4
14:50〜
16:20
Advanced Reading
International
Cooperation
Advanced
Writing
Introduction
to Art
5
16:30〜
18:00