TIU's Contributions to Sports
Our University upholds its Educational Ideal of "Developing truly international minded people through 'Kotokushin (unbiased harmony)'". One of the means that fosters this ideal is the concentration on sports encouragement. With a flawless environment, both hard and soft, we can achieve a well-rounded education through sports.
Department of Human Development and Sports Sciences
In April 2011, the Department of Human Development and Sports Sciences was established within the School of Human and Social Sciences. Learning is facilitated by "the sharing of culture all around the world through sports." From sports competitions to sports lifestyles, there is a wealth of theories and achievements to study. By taking advantage of the unlimited potential of sports, immeasurable possibilities flourish in each individual's lifestyle, region, and contribution to the creation of society on a wide spectrum. Human Development and Sports Sciences help cultivate the outstanding talents of our supporters and coaches.
In April 2012, the Department of Sports Sciences was established within the School of Human and Social Sciences. This new department strives to raise top athletes for a wide range of sports competitions as well as rear leaders to support those athletes. While studying about society, culture, welfare, psychology, in addition to all knowledge encompassing sports, we plan to raise the efficacy of human development and power of achievements, raising victors with the world as their stadium.
Varsity Teams
TIU has been putting great effort and support towards sports encouragement since 2007. Through recruiting the highest level of coaches from all over the world, we are able pursue top achievement in student competition and manage a well-balanced educational practice. A vast amount of our students are participating in the Varsity Teams (Kyoka Clubs) for Baseball, Soccer, Women's Softball, Women's Soccer, Ekiden, Golf, Tennis, American Football, Weight Lifting, Kendo, Wind Orchestra, Archery, Sadou (Japanese Tea Ceremony), and Model United Nations. TIU is always committed to upholding a sound structure of leadership and strengthen the expansion of these clubs.
Coaches
With the mindset of "Great spirit refines great leaders" at the backbone of the sports department, many great leaders who understand what it means to be an international coach are being scouted with the utmost expectations.
Hideki Maeda,
  Soccer Team Manager

Born in Kyoto in 1954, Hideki Maeda led his talents as a middle fielder and defender to Hosei University and Furukawa Electric Company, among many career achievements. During his study at Hosei University he was elected as representative of Japan, and in the early 80s he became the team's captain. He has appeared in two World Cup primary rounds, as well as scored 11 points in the 65th International A-Match. After retiring this position in the early 90s, he held positions as the team manager for Ichihara Youths and Yokogawa Electric, and he has been the director of J2-division Mito HollyHock since 2003.
Yoshinobu Miyake,
  Weightlifting Team Manager

Yoshinobu Miyake was born Miyagi Prefecture in 1939. While he was a student at Hosei University, he took the silver medal in bantam weights in the 1960 Rome Olympics. In the next two following Olympic competitions, he took the gold medal in 1964 in Tokyo, and again in Mexico in 1968. He enrolled in Japan's self-defense force in 1962, and was the principal of Dotaikyo High School until 1997. His younger brother, Yoshiyuki, was a bronze medalist in the Mexico City Olympics, and his niece, Hiromi, was a silver medalist in the 2012 London Olympics and a bronze medalist in the 2016 Rio Olympics.
Saburo Yokomizo,
  Ekiden Team General Manager

Born in Kanagawa Prefecture, 1939, Saburo Yokomizo belonged to RICCAR at Chuo University. In his high school years, he was the winner of the 5,000 meter inter high school race two consecutive years. He has made appearances at the Hakone Ekiden 4 consecutive years (2-time segment winner), contributed to Chuo University's six consecutive victories – the most consecutive victories in history. He made an appearance in the 1964 Tokyo Olympics through injury in the 3,000 meter race. After retiring, he held a position as the manager of the women's track and field team at Matsushita Communications (currently known as Panasonic).
Shuji Ooshida,
  Ekiden Team Manager

Born in Iwate Prefecture, 1962, belonged to Honda Research Institute at Chuo University. He has made appearances in the Hakone Ekiden in his junior and senior years. He took the victory in his senior year in the 8th segment. He was the gold medalist of the 1,500 meter race in the 1986 Asian Games (Seoul). Following that success, he maintained the position of long-distance coach for Chuo University's track and field team, and in the 96th annual Hakone Ekiden, the first in 32 years, he strives to be the overall champion.
Nobumitsu Yuhara,
  Golf Team Manager

Born in Tokyo, 1957, Nobumitsu Yuhara began golf when he was merely 7 years old. He took the title in both the Japan Amateur and Junior leagues. After graduating from Nihon University, he became a pro in 1980. He won his first Kanto Open in 1981, and is a seven-time tour victor. He has been the Golf Team Manager at TIU since July of 2013, and is concurrently involved in the Senior Tour as well.
Naoko Sato,
  Tennis Team Manager

Naoko Sato was born in Tokyo in 1955, and left home at 16 to go overseas. While playing in the Junior League, she placed 3rd in the French Open, and in the best 8 at Wimbledon. She continued to realize global accomplishments while in the Standard League, such as placing in the best 8 for singles in the Australian Open in 1976, and being runner up for doubles in 1978. In June 2011, she became the first woman to take the position of chairperson for the Japan Professional Tennis Association, serving for two terms.
Fujio Sumi,
  Baseball Team Manager

Born in Fukuoka in 1956. In 1975, he joined the Yakult Swallows as a third baseman after being drafted in the 2nd round. In 1991 he won the Golden Glove Award (third baseman division). In 1994 he retired. During his 20 years playing baseball, he made 1196 hits and 128 homeruns. After retirement he served as a coach, scout, etc., for the Yakult Swallows, staying with the organization for a total of 44 years. In February 2019, he took over as the manager of TIU's baseball Team.
Kaoru Uchikawa,
  Cheerleading Team Manager

Born in Saitama Prefecture, 1987. She began her cheerleading career when she started high school, and took home 2nd place as an All Japan competitor for the Nippon Sports Science University Cheerleading Team. She also took home 3rd place at the Japan Cup among other achievements. She was appointed to coach of the Cheerleading Team at TIU in April of 2011, and to manager in February of 2012.
Taeko Utsugi,
  Women's Softball General Manager

Born in Saitama, 1953, she began her career as an infielder in 1972 at Unica Tarui. She has numerous contributions to the sport, including representing Japan in the world championships and was runner-up to the win. After retiring from that position, she managed Hitachi Takasaki (currently known as Bic Camera Takaski). In 1997 she represented Japan as manager, won the silver medal in the 2000 Sydney Olympics, and took home the bronze medal in the 2004 Athens Olympics.
Erisa Kido,
  Women's Softball Manager

Born in Saitama Prefecture, 1986, she went to Tokyo Women's Junior College of Physical Education after graduating from Hoshino High School. She plays the position of outfielder. While she was in university, she participated in the Universiade and won 3rd place (a bronze medal). She then joined Lunes Technology Takasaki (Currently known as Bic Camera Takasaki), has since won the Japan League, the All Japan Championship, and the National Athletic Meet. In April of 2014 she joined TIU as Women's Softball Coach, and in 2018 she was made Manager.
Nana Fujii,
  Women's Soccer Manager

Nana Fujii was born in the Shizuoka prefecture in 1972. In 1989 she joined the Shimizu FC Ladies team, where she helped secure their victory in the First Japan Ladies Soccer League (now known as the Nadeshiko League). Later, while playing for Yomiuri Newspaper FC Ladies Beleza, she led her team to victory in the same league an additional 4 times. In 2007 she began coaching and in 2015 she became the manager for the JEF United Ichihara Chiba Ladies U15 team. The following year she became the manager for the U18 team, and from 2018 she became the manager for their top team.
Takanari Murakami,
  American Football Team Head coach

Born in Saitama Prefecture, 1977, he started his football career at our University's American Football Team. In 2007, he represented Japan in the 3rd American Football World Cup. His position is Offensive Guard and he currently belongs to IBM Big Blue.
Morifumi Demizu,
  Kendo Shihan (Kendo Master)

Born in Kagoshima Prefecture, 1955, he is holder of the Hachi-dan ranking of Kendo Kyoshi (the highest ranking in all of Kendo), his career in Kendo began when he joined the Tokyo Metropolitan Police Department where he led his team to victory in the All Japan Police Kendo Tournament. He left the force as the Tokyo Metropolitan Police Division, Kendo Refinement Office's leading Shihan. In April, 2016, he has been inducted into our university as the Kendo Shihan.
Mitsuhito Morishita,
  Archery Team Manager

Born in Tochigi Prefecture, 1956, he joined the archery team upon entering TIU and became the team captain. Afterwards, he became a member of the Archery Pro Shop, and is two-time group victor of the All Japan Corporate Archery Competition. He provides a variety of counseling functions for high school students, university students, and all members of society. As of December, 2016, he became TIU's Archery Team Manager.
Kota Arai,
  Wind Orchestra Music Director

Born in Shizuoka. After graduating from Tamagawa University with a major in Music from the Faculty of Arts, he completed the same university's Arts major. In addition, he completed the diploma course at the Shobi Arts & Music School's Tokyo Conservatoire. Currently he belongs to the Japan Brass Band Conductors Association, and since 2012 he has been serving as the Music Director for the Tokyo International University Wind Orchestra.
Facilities
The Sakado Campus (and its connected grounds) are the heart of Tokyo International University's sports education. Naturally, the equipment and state-of-the-art facilities within are used by the members of the university varsity teams as well as many other students for their physical education classes. Busses go to and from campus 1 and campus 2 to support students in their quest for sports excellence.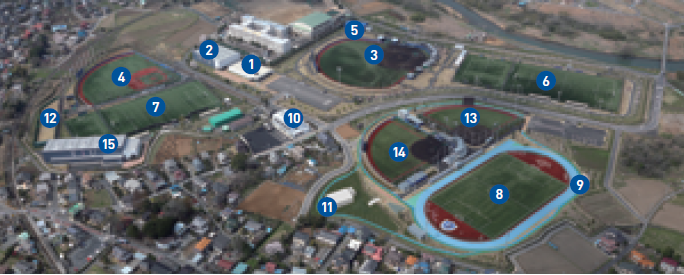 1. Friendship House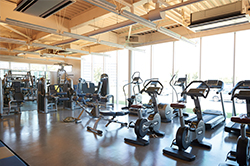 2. Indoor Practice Area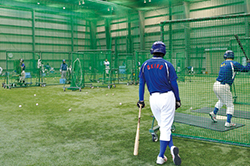 3.Baseball Stadium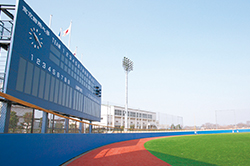 5. Indoor Bullpen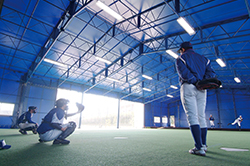 6. Soccer Field #1 and Futsal Court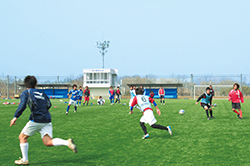 8. Track and Field Stadium & Soccer Field #3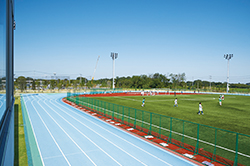 9. Cross Country Course
11. Ekiden Training Center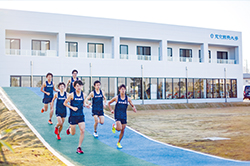 10. Ekiden Team Boarding House and Cafeteria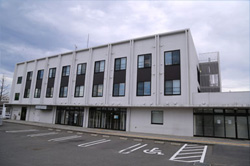 12. Archery Range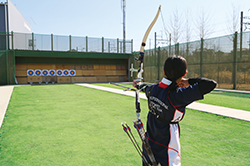 15. Golf & Sports Sciences Laboratory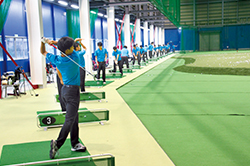 ※表は横にスライドできます。
| | | |
| --- | --- | --- |
| (1) | Friendship House | Complete with Training Room, Shower Room, and Meeting Room. The training room is equipped with all types of machines to support physical fitness. |
| (2) | Indoor Practice Area | All flooring is complete with artificial turf with an infield sprawling 1,600 meters squared. There is also a training room in the annex. |
| (3) | Baseball Stadium | With a 122-meter center field and 98 meter flanks, the outfield is equipped with artificial turf and the infield is mixed turf. It is also equipped with a lit-up score board and lighting facilities to support official games. |
| (4) | Baseball Field #2 | This field has been built to the same specs as Meiji Jingu Stadium. |
| (5) | Indoor Bullpen | The indoor bullpen is an annex to the baseball stadium. During rainy weather, up to five people can practice baseball simultaneously in this facility. |
| (6) | Soccer Field #1 & Futsal Court | This is a 3-planed field complete with manmade turf that meets requirements for the Japan Soccer Association that can also be used for international regulation games. |
| (7) | Soccer Field #2 & Futsal Court | All surfaces are covered by artificial turf, akin to the previously mentioned soccer field. This is also used by both men and women's futsal team practices. |
| (8) | Track and Field Stadium & Soccer Field #3 | These facilities are equipped with 6 lanes of weather-proof pavement sprawling 400 meters. The inner field is a soccer field with artificial turf. |
| (9) | Cross Country Course | The entire length of this cross country course is roughly 700 meters. This area can also be used to train for the uphill and downhill portions. |
| (10) | Ekiden Team Boarding House and Cafeteria | The second and third floors of these accommodations are the boarding house for the Ekiden team (The Ekiden Dormitory), and the first floor is a special cafeteria that serves special athlete meals that are catered to the training needs for the various varsity teams. |
| (11) | Ekiden Training Center | Athletes can train in special low-oxygen rooms that have an environment equivalent to the altitude of 2,500 meters, as well as with aero bicycles and other running machines. |
| (12) | Archery Range | 8 people can practice here simultaneously. Amidst this quiet field is natural grass that provides the perfect environment for comfortable practice. |
| (13) | Multi-purpose Grounds | This is directly next to the softball field and built to the same specifications with both artificial and mixed turf. There are four light towers and this field can be used for regulation games. |
| (14) | Softball Field | The infield consists of a special blend of mixed turf while the outfield is fully artificial turf. There are also light towers and it is built like an official softball field. |
| (15) | Golf & Sports Science Laboratory | This indoor golf range has a total of 22 automatic tees. The automatic measuring machinery and analysis equipment make scientific counseling a reality. |
Please contact the executive office for information regarding a donation plan.
Tokyo International University Supporters' Executive Office
4-23-23 Takadanobaba
Shinjuku, Tokyo 169-0075
TEL : 03-3362-9641 FAX : 03-3362-9643 Mail : supporters@tiu.ac.jp