【Career Experience Practicum (Fall 2022): Building the Next Generation of International Business Leaders】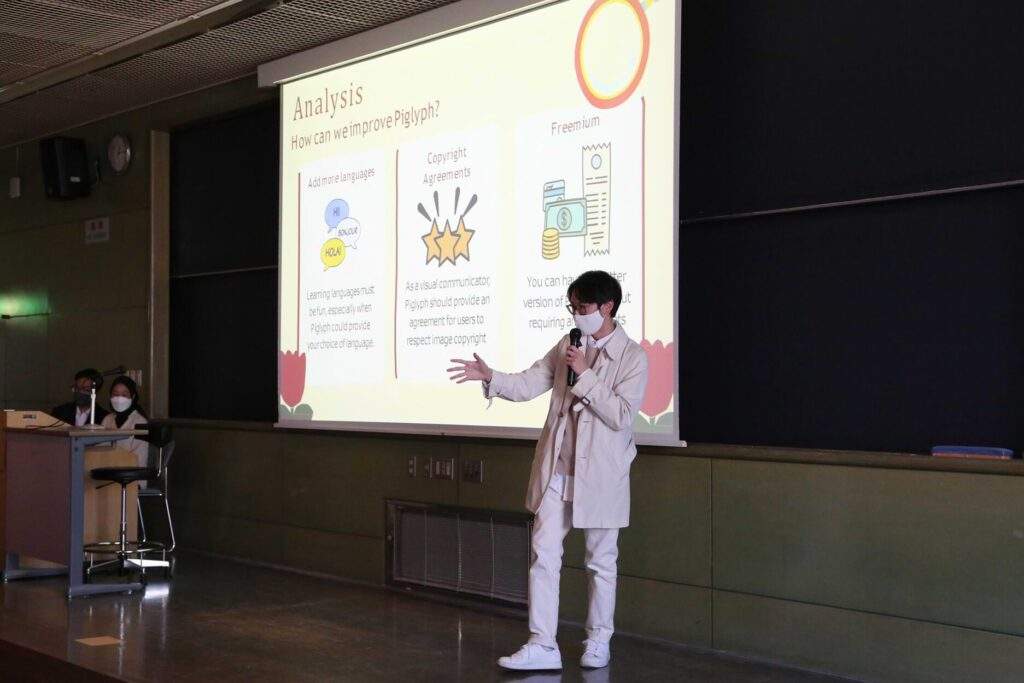 Each semester, Tokyo International University offers an English-based "Career Experience Practicum" in which students learn about cutting-edge business operations with the cooperation of various global companies.
This semester (Fall Semester 2022), the program was held in collaboration with Ricoh Company, Ltd., a major Japanese technology company with operations around the globe. The students considered and proposed how to effectively utilize "TRIBUS," Ricoh's accelerator program, and the visual communication support tool "piglyph," to help solve social issues.
Students from 14 countries, including the United States, India, Indonesia, Kazakhstan, South Korea, Thailand, Taiwan, Bangladesh, the Philippines, Brazil, Vietnam, Malaysia, Myanmar, and Japan, joined in on this semester's practicum.
First, Mr. Kodai Ogasawara (TRIBUS Promotion Office) and Ms. Eri Watanabe (Piglyph Leader) from Ricoh gave a lecture on both TRIBUS and piglyphs. Mr. Ogasawara talked about how Ricoh responded to changing times and revolutionized office work by advocating office automation. Ms. Watanabe talked about how piglyphs were created as one of the ideas that emerged from TRIBUS and the thoughts that went into developing it.
With the lecture's content in mind, the students were divided into six groups to work on their assignments, receiving advice from the two Ricoh professionals as needed.
Below are examples of some of the student proposals:
"Group 1" Proposal for visual language learning using piglyphs in primary education in Indonesia
Students felt that in a multi-ethnic country like Indonesia, with classes conducted in several languages, it would be more effective to have children learn more visually during primary school. The group went on to develop a concrete plan for market analysis, modification of piglyphs to meet specific local needs, promotional activities, and even developed a business plan for implementation in Indonesia.
"Group 4": Supporting startups by implementing TRIBUS in India
The number of startups in India has increased 150-fold between 2016 and 2022. Students felt that bringing the TRIBUS accelerator program to India that it could expand the scope of business for both Ricoh and Indian companies. In light of social issues unique to India, such as educational disparity and child labor, the group made specific proposals focusing on human resource development through training and securing talented individuals.
After the presentations, Ricoh employees critiqued the presentations in which all groups were highly evaluated for not only their ideas but also including specific promotions. One student expressed, "The feedback I received from Ricoh employees was extremely helpful. I hope to make use of what I learned here today after graduation." Another student stated, "I also participated in the previous 'Career Experience Practicum' with Otsuka Holdings. It was a good opportunity to learn about the strategies of another Japanese company that specializes in a different field."
The Career Experience Practicum program at TIU allows students to enhance their skills to devise solutions to complex issues on their own. TIU will continue developing programs to equip students with the necessary tools to become the next generation's most influential business leaders.