TIU provides dormitories that are affordable, safe, convenient, and fully furnished. E-Track students may live in a dormitory for their first year, afterwhich they can move into private accommodations such as a single or shared apartment.
Living in the dorm is not required; students may opt for private accommodations from the start of their studies. Although Tokyo is a major global city, the cost of living is surprisingly affordable. While tourists may tend to shop and dine in more expensive areas, residents know where to find quality groceries and goods for reasonable prices.
The cost of living also depends on individual lifestyle choices: for example, how often you cook at home or eat at restaurants.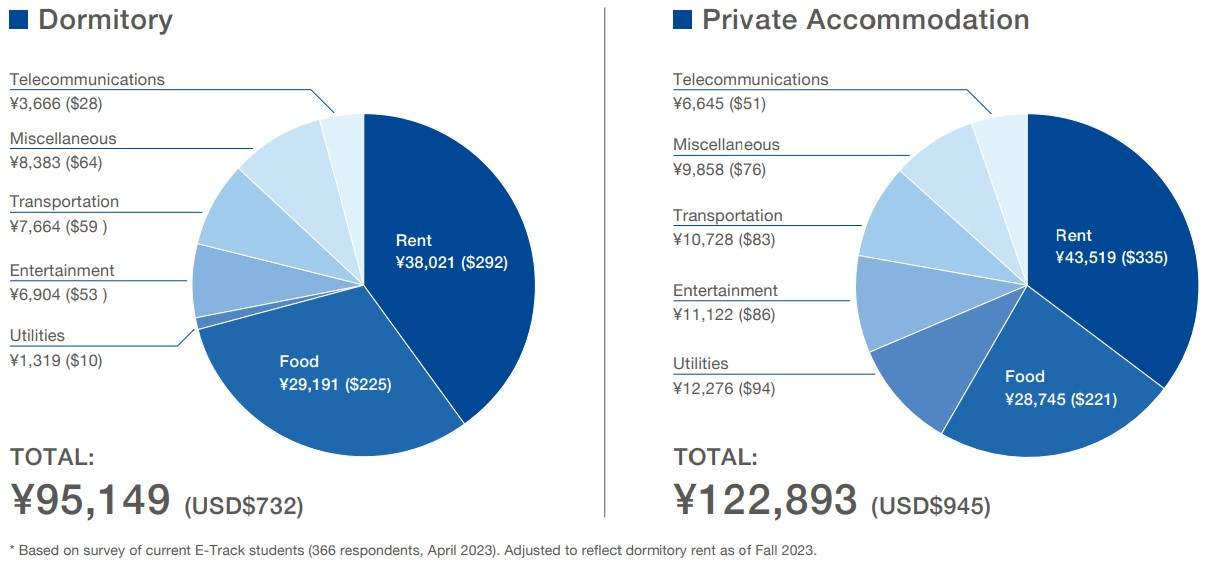 International students in Japan on student visas may legally work up to 28 hours per week during the semester and up to 40 hours per week during the breaks between semesters. To work part-time, students must first obtain a special permit from Japan's Immigration Bureau called "permission to engage in activities other than that permitted under the status of residence previously granted".
This permit may be obtained at the international airport upon arrival or at the nearest Immigration Bureau office. Working part-time is a great way to gain experience and help cover your expenses.
The minimum wage may vary by city and prefecture. As of October 2022, the minimum wage in Tokyo is JPY 1,072 per hour. Some jobs may pay more than the minimum wage. Examples of jobs include language tutoring, retail, and food services. There are paid opportunities on campus as well through the TIU Student Leadership Internship program, such as being a writing tutor, assisting new students, and helping to operate the English Plaza. Many E-Track students with varying levels of Japanese ability work part-time at some point during their time at TIU.
Click here to find out more about Part-Time Work and Internships.