Tokyo International University, English Track Program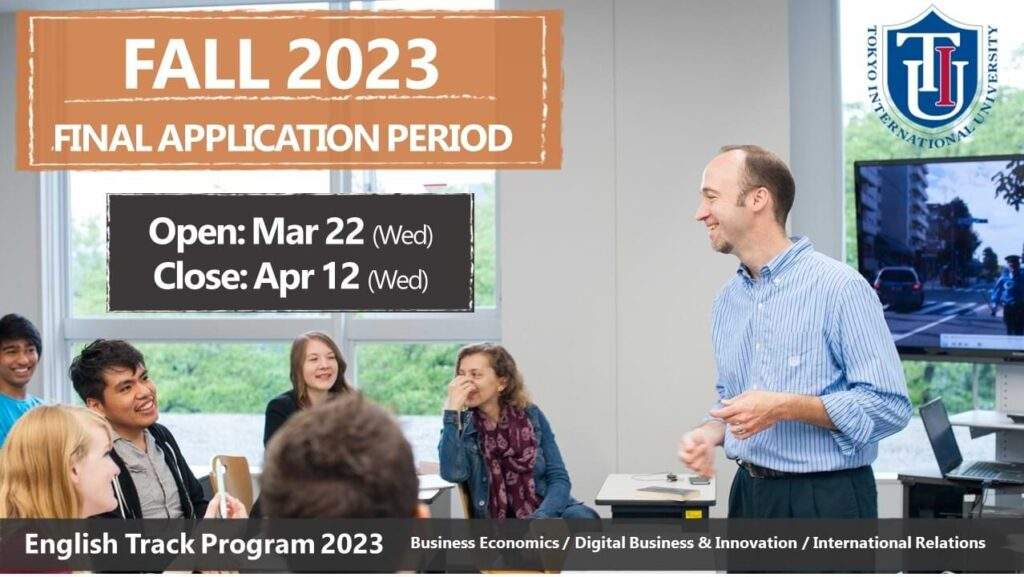 ※ Fall 2023 Intake, Application Period 4 of 4 for Undergraduate Programs:
Mar 22 (Wed) – Apr 12 (Wed) 2023 at 17:00 Japan Standard Time (UTC+9)
Admission and scholarship results for both freshmen and transfer applicants will be announced on May 22 (Mon) 2023.
※ SCHOLARSHIPS:
TIU Tuition Reduction Scholarships are available at rates of 30, 50, 80, and 100 percent.
※ TIU E-Track offers three undergraduate degree programs taught entirely in English from the heart of Japan.
★ Business Economics (B.A.): Gain the skills and knowledge you need to succeed in the international business world.
★ Digital Business & Innovation (B.S.): Learn how to use digital technology to innovate new products and services.
★ International Relations (B.A.): Deepen your understanding of world issues while building career-critical skills in leadership, research and communication.
※ Application guidelines can be found here:
https://www.tiu.ac.jp/etrack/admissions/downloads.html
※ Questions? We're happy to help!
・ E-Track Admissions Center (Tokyo): etrack-admissions@tiu.ac.jp

・ TIU Overseas Offices and Representatives in Indonesia, Thailand, Vietnam, and India:
– indonesia@tiu.ac.jp
– thailand@tiu.ac.jp
– vietnam@tiu.ac.jp
– india@tiu.ac.jp
We look forward to receiving your application!